I was born late November in 1957. As a very little girl, I have vague memories of us going to downtown Pittsburgh to view the stores decorated and lit up for the holidays. I suppose that is what you did then, before the malls were built.
There are not too many images on the Net of these stores back then….I found one here though I am not sure of the decade.   ( from the  SOURCE  it appears to be the early 60's)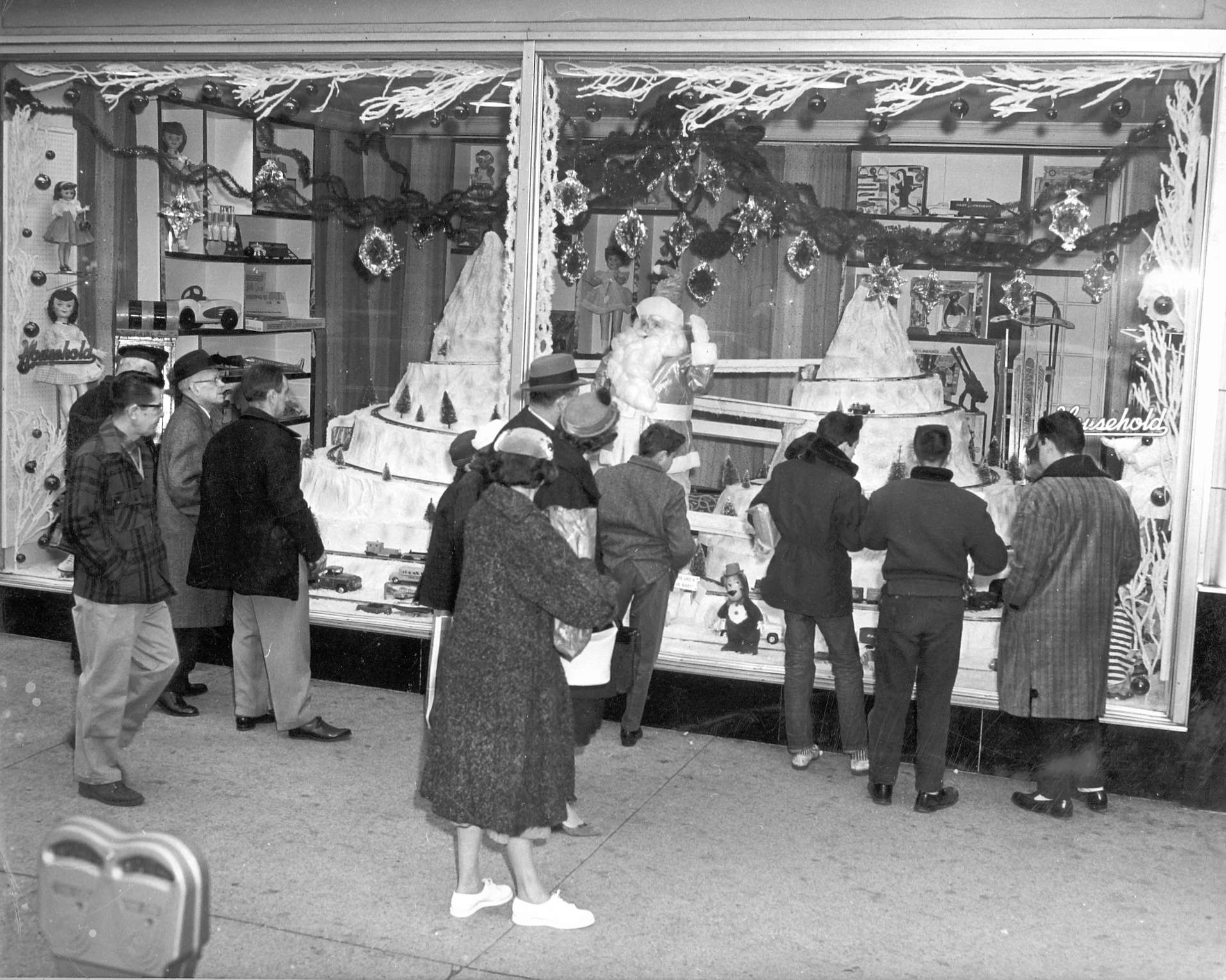 I don't recall doing this too many times..maybe twice at the most, and after that, any 'retail' memories were of a local mall…when it was new, it was a source of wonder at Christmas time :)
We lived with my grandparents until I was three. My grand-aunt Ruth's place was next door. This was in Munhall, a suburb of Pittsburgh…but it was mostly country then. Ruth's place had grapevines, rabbits, ( I later learned her husband grew them for science experiments! Thank goodness I was shielded from that as a child ) beehives, and strawberry fields. They grew and sold strawberries in the early summer.
Holiday dinners were there and I have vague memories of a long long table ( probably several pushed together ) with white cloths, and many many people gathered around, with snow falling outdoors.
This is a picture of me when I was around 2 or 3 years old, dressed up for Christmas, in front of a little cupboard that my grandfather had made for me. I remember naming that doll "Barbara" and notice the plastic on the furniture ? I recall that the seats in their black Ford were covered in plastic as well :)
My parents bought property out in the country in a different area, and not long after that my grandparents purchased the acre next to them and built a home there. I remember being so sad when we left my grandparents home…along with leaving Ruth's place, theirs was an idyllic setting for a child. My grandfather had a goldfish pond with a little bridge, there was a creek at the back of the property, and the neighbors had a pet crow. Sadly, Ruth died the next year. I remember crying and crying because I loved her so..
Here is an old picture of my grandfather building a replica of that house in Munhall.
Well, back to Christmas memories. Once we were settled in our new house, a small ranch house on a acre of land, most Christmas memories blur together because we did the same thing every year. And that is how traditions go, I suppose :)
We probably did not have a T.V until I was around 6 or 7 years old, and then it was a small black and white one in my parent's bedroom.  I think that we watched just a few shows a week…such as "Bewitched" so commercials were far and few between…the only thing to entice a young child was the Sears Wish Book. I would peruse that for hours at a time.  Shopping at anywhere but the grocery store was rare…so there was never the constant in-your-face toys and games etc., that our children see now. SOURCE ( Image Below ) 

Aside from The Wish Book, the other exciting publication that came in the mail was the Ideals Magazine. On a recent visit to my mom's house, I unearthed some Ideals book that she had, that was a compilation of various Ideals articles over the years, and I was instantly transported back to my childhood because I remembered one of those and had loved it as a child. I took some pictures with my phone and that is what inspired this memories post, for the most part :)
Basically, the Christmas season started with Advent. There was an Advent wreath in the center of the table, with red candles. When the first candle was lit, on a Sunday evening at dinner time, the Season began.   SOURCE    I did this with my boys when they were young
as well.
Please understand…back then, in my situation at least, there were only three times a year …Christmas, your birthday ( very little ) and back-to-school…that you were ever going to GET anything. I am not counting Easter because that was just a small basket and maybe some new church dress or shoes, but don't count on that.  Nope, just three times a year and Christmas was the biggest.
I recall almost holding my breath when the first candle of the Advent wreath was lit, because the magical season had begun. It had started earlier in church, when we started singing the Christmas hymns, and it was just going to get better now throughout the month.
After that, there were the decorations…the mantel had a magical scene of Christmas houses and elves and reindeer. The dry sink had a beautiful nativity scene. There was a choir of angels that were made of candles. I later saw a similar set in an antique store priced far above my budget!
Church became fun ( sort of ) due to the beautiful hymns and Christmas programs, etc. I had to do a piano solo in church when I was in 4th grade and will never forget the sheer terror of that…
At some point about 2 weeks prior to Christmas the live tree ( back then they must have been more alive than now, because the entire house was infused with the scent of pine ) went up, along with a platform underneath that housed a village and Lionel train.  My grandfather had built a folding wooden fence that went all around the platform, and while there was a church and some houses, he also built a log cabin. I would lay on the floor and play with the skiers and ice skaters, and later when I had my own children, I took the antique figurines with me and re-created that Christmas scene under my tree when they were little.  While I don't have all of that now ( nor the room for it ) I do put a few of the ice skaters out along with some decorations on the children's train table upstairs.
The cookies baked at our house were the kind that children could participate in …sugar cookie cut-outs, butter balls ( which we rolled in sprinkles, versus confectioner's sugar ) and fudge.
My grandmother next door always had Toll House cookies for us throughout the year but at Christmas time she made the fancy kinds…many different varieties.
Was tissue paper cheaper or more common than colored wrapping paper back then ? I don't know, but my mom always wrapped all of the presents in white paper or white tissue paper, and then put little stickers all over them. The living room appeared to be a sea of white presents on Christmas morning.
We had dinner at my grandparents, and my aunt and uncle and cousins came for that. There would be 'table gifts' placed on the children's plates. Little pencils…simple things like that,  but special at the time. They held us over until we could exchange gifts in my grandparents living room after dinner.
My grandfather had a racetrack that he only brought out at Christmas time and this amused us children as well. I do not recall having alot of toys as a child…not like children have today. Our Barbies rode around on books, and half of their clothes were made up of old scarves and such. The sea of presents that I recall as a child most likely was much smaller than what our children receive today and many of those presents would have been books and puzzles and board games, to last throughout the year.
The other two posts in this little series are :
Sharing at: