Yesterday here ( Western PA. south of Pittsburgh ) the humidity was so intense that when I stepped out onto the front porch around 7 in the morning my glasses fogged up! So….I am traveling to a 'clear and bright' morning with D.E Stevenson….
" September is one of the most beautiful months of the year in the Scottish Highlands; perhaps the most  beautiful of all to those whose home it is. The gorgeous purple heather has faded and the hills are brown and tawny; there are little wisps of mist in the valleys which drift gently in the breeze and turn golden before they disperse in the rays of the sun…best of all the visitors have departed and the land belongs to the Gael.
This particular morning was clear and bright with a slight nip in the westerly breeze. The jagged mountain tops were outlined against the blue sky as sharply as though they had been cut out of cardboard with a keen-edged knife; here and there were patches of fir trees, dark against the brown hillside, and little burns ran down amongst bright green mosses, leaping merrily from rock to rock, throwing up sparkling spray and finally plunging into the loch where the peaty stain spread out in a fan-shaped ripple before merging into the clear water."
I grew up reading books that used words such as 'amongst' ( which MS WORD thinks is an error ) and 'whilst' and 'forthwith' .  The quote above is from D.E Stevenson's book "The Marriage of Katherine".    My mom had one or two D.E Stevenson books that I read as a teenager. She had some Gladys Tabor books ( I decided later on in life that while Gladys was okay, Jean Hersey, of a similar genre,  was better ) and there were many Reader's Digest books of the classics. Bottom line, I grew up reading old-fashioned stuff :)
To this day, while I've read myriad books of all sorts in my lifetime, if I could only take so many items to an island where I'd be stranded…for amusement I would take old-fashioned BBC mini series DVDs and old-fashioned English books such as those written by D.E. Stevenson. ( Of course the island would be hooked up for DVD viewing :)
"Long out of print, her books are avidly sought by discerning readers throughout the English-speaking world: readers who appreciate endearing characters, familiar yet intriguing situations, and darn good stories."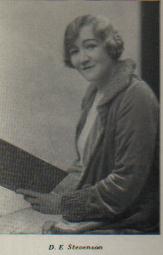 She was known as DES to her fans and fans to this day are called DESSIES. Since she has retained such a popularity, while many libraries may have dispersed of older books over the years, hers are still likely to be retained at many. Other than that, used books can be found online.
If you like 'old-fashioned' and are not familiar with D.E Stevenson…check your local library for light entertainment with wonderful descriptive writing and engaging characters.
You might also enjoy :  For Downton Abbey Fans  or Baskets & Laura Ingalls Wilder